Home
New Location this Saturday Only! We will set up nets on the grass lawn directly in front of the New Orleans Museum of Art (NOMA), located in City Park, to cheer on the runners/walkers that are participating in the Allstate Sugar Bowl Celebration in the Oaks Run/Walk. The run/walk is scheduled to start at 3:30pm.
Adult clinic from 9:30am-11:30am to benefit Typhoon Haiyan victims.
Reuben Alumbres will once again be offering an adult clinic Saturday morning, November 30, for donation ($30.00 suggested) to help his family members back in the Philippines recover from the devastating effects of Typhoon Haiyan. His family resides on the island of Samar right next to Leyte, so they were hit hard. The five adults that went through Reuben's clonic last weekend got a lot out of it! Please contact Reuben at r.alumbres.nextlevel@gmail.com or (504)487-3753 to reserve a spot.

Cancelled this Saturday!
Saturday, 7 December 2013, Speed Tournament scheduled to start at 12 Noon. Arrive after 11:30 (but before noon) so we can get an accurate count. Cost is $5 per player. Format is Quads, Blind Draw, King/Queen of the court with championship game. The tournament should be over by 2:00pm, or so, at which time we invite you to play pick-up (for free). Note: We will be playing in front of NOMA this Saturday. See Above.
Note: MCYV is running a junior league and mini-volleyball program every Saturday from 9:30 to 11:30. Please leave all adult beverages in your car until all youth participants have left the premises. Your cooperation is required. Yes, MCYV will be at NOMA as well.
Location: MCVG plays on the grassy banks at the foot of Bayou St John, across the street from the Post Office, Bayou Bicycles, Fetch Mid-City and Armstrong Electric Supply, in sight of the American Can Company and within easy walking distance of Parkway Bakery and Tavern. That would be on Jeff Davis Parkway at the intersection of Toulouse, for those of you that need to use GPS to find us. Note: We will be playing in front of NOMA this Saturday. See Above.
Tuesday Night Volleyball - Postponed until Spring 2014
Ran out of Daylight, see you next year.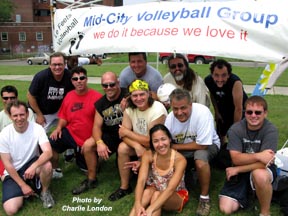 The Mid-City Volleyball Group (MCVG) is a collection of people from across the city who are passionate about playing and promoting outdoor volleyball. We regularly set up portable courts along Bayou St John across from the Mid-City post office for clinics, tournaments and pick-up games. We are equal-opportunity fun-seekers who wish to share our love of the game, so we invite players of all skill levels to join us. Our ultimate goal is to build and operate a modest sand volleyball venue in Mid-City that will offer beginning and advanced level clinics, tournaments and league play.
MCVG currently offers the following activities:
Saturday noon "speed" tournament for adults or advanced juniors; $5.00/player (See above for start time).
Saturday afternoon pick-up volleyball for all skill levels following the weekly "speed" tournament; free.
Tuesday night volleyball (Sorry, no more daylight, see you Spring 2014).
Mid-City Youth Volleyball, MCVG's sister organization, offers the following activities:
Youth League for youths 10-17
Mini-Volleyball, ages 6-9ish
Please see www.midcityyouthvolleyball.org for more information about the 2013 youth clinics.