Home
Saturday, 13 December 2014 – "The Wedlock Tournament" Pick-your-Partner Reverse Co-Rec (Co-Ed) with skill divisions.
Man and Woman Pairs – Men cannot spike or block – Women get to swing away on a Women's height net.
There will be free pick-up games following the completion of pool-play matches around 2:00pm. Let's enjoy this mild weather while we can! (Come dressed as an elf and play elf pranks).
(A more complete description of tournament formats can be found here.)
Tournaments scheduled to start at High Noon.
Arrive at 11:30am or so to allow us to get a head count (call ahead if need be); play will begin at noon assuming you ALL get there no later than 11:50am so we can get an accurate count! $5 suggested donation. At the conclusion of the tournament nets will be open for free play, all skill levels welcome.
Note: Mid-City Youth Volleyball (MCYV) League plays from 9:30 to 11:30. Please leave all adult beverages in your car until all youth participants have left the field. This is not a request. Thank You for your cooperation.
Location: MCVG plays on the grassy banks at the foot of Bayou St John, across the street from the Mid-City post office, Bayou Bicycles and Armstrong Electric Supply, in sight of the American Can Company and within easy walking distance of the Parkway Bakery and Tavern. That would be on Jefferson Davis Parkway at the intersection of Toulouse, for those of you that need to use GPS to find us.
Inclement Weather? Any cancellation notice will be posted on this page no later that 10:00am Saturday.
Tuesday Eve Volleyball:
Season has been Suspended due to Darkness till March 2015. Cheers.
Subscribe to our mailing list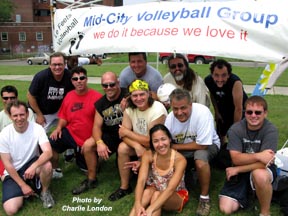 The Mid-City Volleyball Group (MCVG) is a collection of people from across the city who are passionate about playing and promoting outdoor volleyball. We regularly set up portable courts along Bayou St John across from the Mid-City post office for clinics, tournaments and pick-up games. We are equal-opportunity fun-seekers who wish to share our love of the game, so we invite players of all skill levels to join us. Our ultimate goal is to build and operate a modest sand volleyball venue in Mid-City that will offer beginning and advanced level clinics, tournaments and league play.
MCVG currently offers the following activities:
Saturday noon "speed" tournament for adults or advanced juniors; $5.00/player (See above for start time).
Saturday afternoon pick-up volleyball for all skill levels following the weekly "speed" tournament; free.
Tuesday night volleyball.
Mid-City Youth Volleyball, MCVG's sister organization, offers the following activities:
Junior League for youths 10-17
Mini-Volleyball, ages 6-9ish
Please see www.midcityyouthvolleyball.org for more information about the 2014 youth clinics.